Tango Ensemble "Astrorico"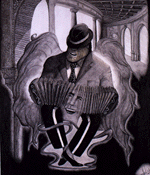 Tango Ensemble "Astrorico" was established in Kyoto,Japan, by the distinguished Japanese bandoneon player, TOSHIO MONNA in April 1992. From its first concert abroad (Madrid, 1993), Astrorico was praised as "The Japanese Tango Ensemble who has accomplished an astounding achievement" (The Diario YA, Madrid). Representing Japan, Astrorico has been invited annually in concerts and festivals abroad, such as Granada Tango Festival (1995, Supported by "Japan Foundation"), 3rd World Tango Summit (Uruguay, 1996 & 2000, Supported by "Japan Foundation") and 5th Cumbre Mundial (Rosario, Argentina 2000). Since its debut, ensemble has achieved outstanding critiques including by the scathing tango enthusiasts in Argentina, being named as the "Distinguished Tango Ensemble of Japan".
In July 1993, Astrorico performed with the Kyoto Philharmonic Orchestra in "Tribute to Astor Piazzolla : First-Year Memorial Concert". At the same time, the ensemble has been named the "Standard bearer of the new Tango generation" for its collaboration with pop singers such as Kazufumi Miyazawa and dance group "Diamond Dogs". Particularly, Astrorico's collaborative work with the noted Japanese musical star Mizuki Oura has gained high recognition from critiques of varied genres, including outstanding appraisal by the singer Milva. Furthermore, the ensemble has given open lectures and workshops for students and professional musicians, providing opportunities for "Tango grass-roots movement" for the future generation. Astrorico provided soundtracks for the award-winning film "Futari Biyori: Turn Over—An Angel Is Coming on a Bicycle (Nippon Cinema Award at 5th Nippon Connection, Frankfurt, Germany, 2005).
TOP PAGE